Getting here
Mundubbera is located mid-way between Brisbane and Rockhampton on the A3 Burnett Highway - Australia's Country Way. The quiet alternative tourist route, Rural Getaway between New South Wales and Queensland feeds into Mundubbera, a diverse rural centre located at the meeting place of the Burnett, Boyne and Auburn Rivers approximately 370km north of Brisbane.
Things to do
Bicentennial Park & Heritage Visitor Information Centre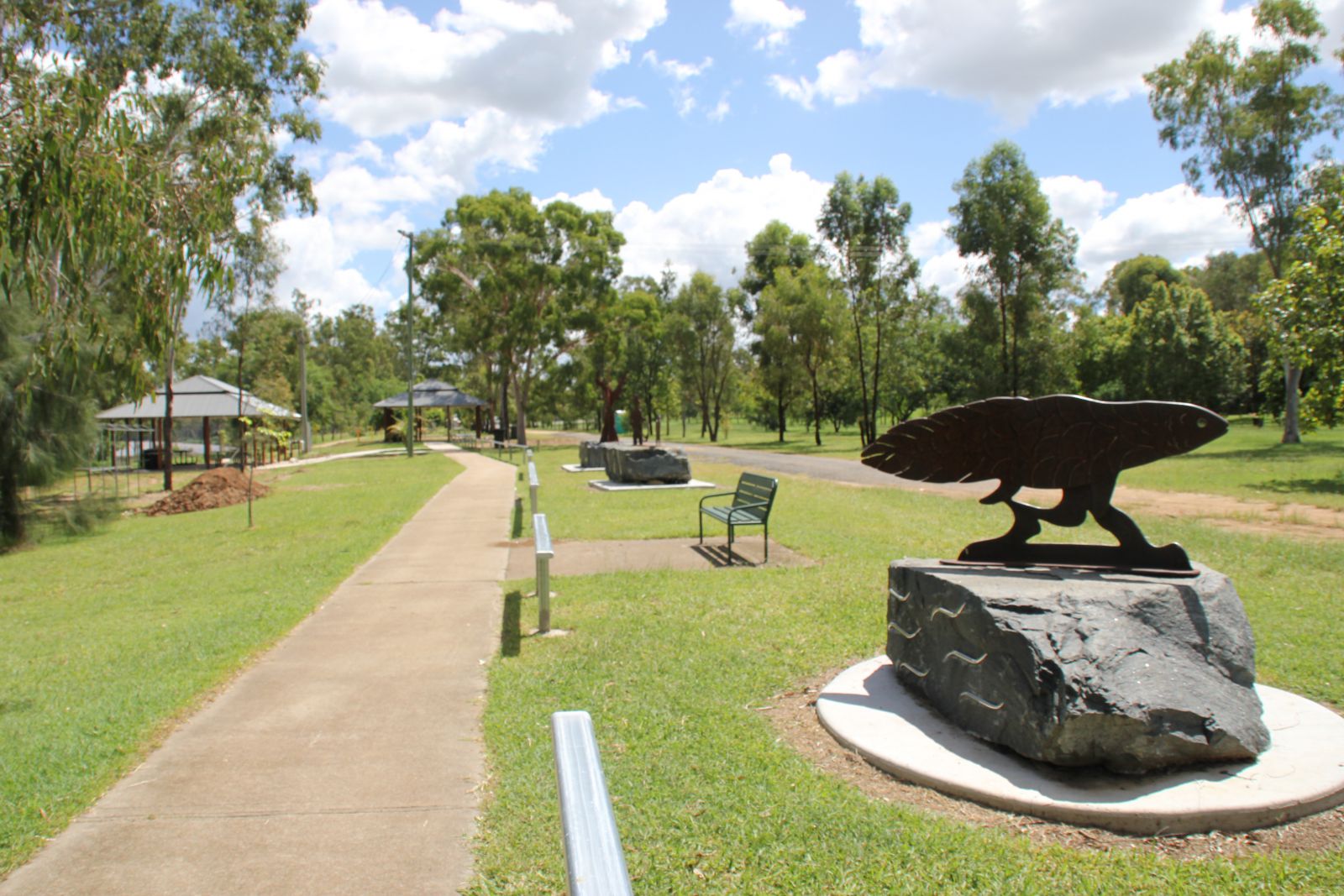 Drop into the Mundubbera Heritage Centre to view a fully restored wagon, historical displays, and several photographic displays of early settlement and industry. Tourism information is also available at the Centre. There are a variety of things throughout the park to visit including an historic steam engine and a series of sculptures that are made of metal and rock representing the natural and human heritage in the Mundubbera District. These sculptures are entitled, Ceratodus, The Picker, Cattleman and Footprints. Another point of interest is a tree that has been grown from a seed that was gathered at Lone Pine, Gallipoli. Wander through the sensory garden and bush tucker plantation then take the scenic 'Arthur Dagg Walk' which is approximately 700 metres long which will take you to the centre of town. The park is wheelchair friendly and has picnic facilities, BBQ, toilets and children's playground. There is parking for coaches and caravans. Located beside Strathdee Street (Mundubbera/Durong Road) near the Dimitros Bridge which crosses the Burnett River.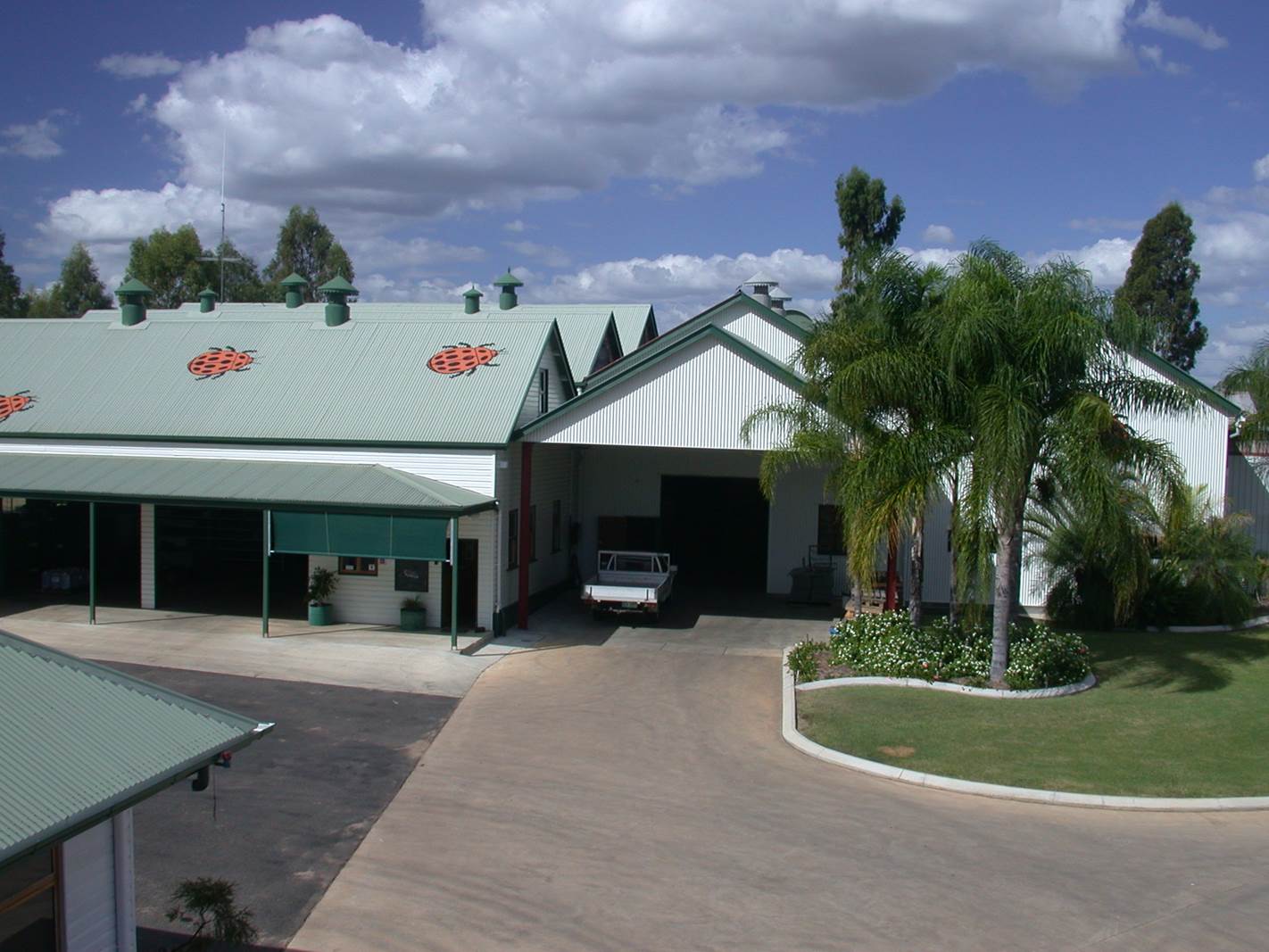 Bugs for Bugs
Mundubbera has a unique industry, an Insectary, that specialises in the production of beneficial predatory bugs for crops and agriculture, cutting down the need for chemical sprays. The insectary operates out of the Old Butter Factory in Mundubbera and is run by Integrated Pest Management, an Australian company based on researching and reducing the use of conventional insecticides with alternative pest management strategies. The company breeds bugs and insects to fight mealy bugs, aphids, thrips, heliothis and coddling moths and many others. Visits to the insectary are by appointment only. Located in Bowen Street which runs off the Mundubbera/Durong Road near Bicentennial Park.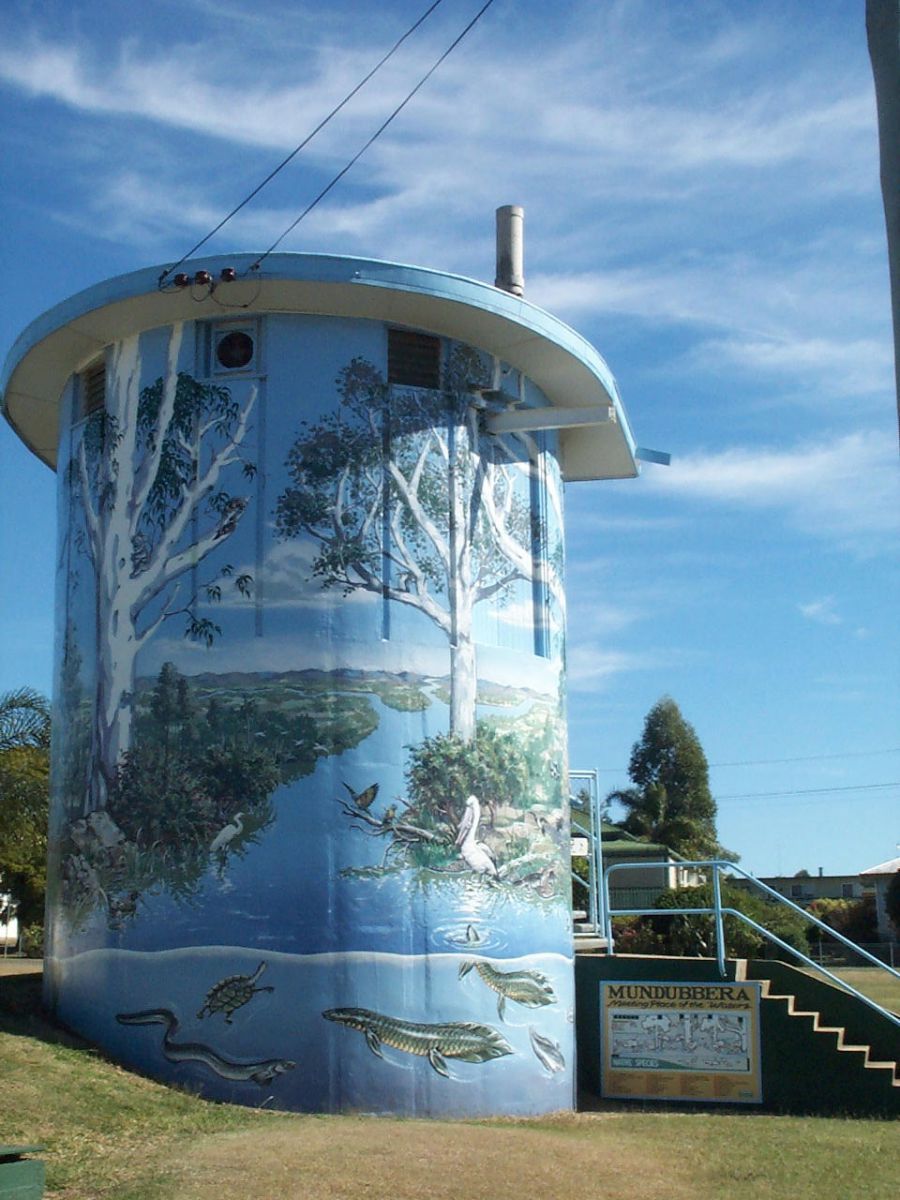 Art Gallery
Take the time to have a stroll down town and visit the Art Gallery opened in April 2008 and is definitely worth a visit. The Gallery is climate controlled and capable of displaying national art works. Many exhibitions have been held including works by local and regional textile artists, silversmiths and quilters. Located in the library building in Lyons Street.
Water tank Mural
Check out the mural that is painted on the water tower at the pumping station. It depicts the meeting of the Boyne, Auburn and Burnett Rivers with lots of native flora and fauna tucked into the scenes. It was painted in 1997 and it has become a local icon. Located in Strathdee Street, not far from the Dimitios Bridge which crosses the Burnett River south of the town
Water Sports and Recreation